At this time raw materials for fluoropolymer tubing are experiencing price and supply volatility. Certain sizes may also experience shortages. Please call for current status at 800-506-3924 or 215-526-2300.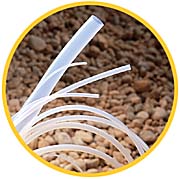 PFA and related fluoropolymers are almost universally inert to industrial chemicals and solvents. Often referred to as Teflon® tubing, PFA tubing can handle virtually any corrosive chemical in use today, with few exceptions. It is also recognized for its excellent resistance to heat — up to 500°F continuously. Lesser known is its usefulness in extremely cold temperatures — well below -200°F. It will remain reasonably flexible to -110°F.
NewAge Industries offers PFA tubing in a wide range of sizes and wall thickness to meet most any need. We also stock PTFE and FEP formulations in straight tubing, AWG and fractional sizes, coiled and corrugated for increased flexibility and stainless steel overbraided hose for increased pressure capabilities.
If you need assistance in selecting the product that's right for your application, or if you would like to place an order, go to the Contact Us section to find a listing of our Technical Support Staff or call us at 800-506-3924 or 215-526-2300.
Let us help you with all of your
Tubing and Hose needs
ABOUT PFA TUBING
Fluoropolymers are one of the most versatile engineering materials known and, since their discovery over 60 years ago, have been used in nearly every field of modern industry, technology, and science.

PFA (Perfluoroalkoxy) belongs to a class of melt-processible fluoroplastics. PFA tubing is known for its gas and vapor permeability properties and excellent UV transmission ratings. While very similar in composition to FEP, it has better heat resistance and has a smoother surface. It is more clear and flexible than PTFE.
HISTORY OF PFA
The original fluoropolymer resin, PTFE was discovered by Dr. Roy Plunkett, a chemist at DuPont, in 1938. The use of fluoropolymers became well known to the public in 1946 when E.I. DuPont began marketing "Teflon®" brand product for use on cookware, as a fiber treatment for stain resistance, and in other household applications. PFA was later introduced in 1972. These days, high quality fluoropolymers are manufactured by a number of respected companies for use in the manufacture of PFA tubing.
TYPICAL INDUSTRIES AND APPLICATIONS
Adhesives & Hot Glue Delivery • Automotive • Cable Bundling • Chemical Transfer • Connector Sleeves • Corrosives • Cryogenics • De-ionized Water Transfer • Environmental Sampling • Flame Retardant Covering • Food & Beverage Processing • Internal Sheathing • Laboratory & Medical Uses • Lighting Covers • Medical Devices • Paint Spray Systems • Petrochemical Transfer • Pharmaceutical Processing and Packaging • Pure Air Systems • Pure Water & Fluid Systems • Push-Pull Cable Jacketing • Robotics • Solvent Transfer • Wire Insulation • Many More

High Purity Fluoropolymer Tubing and Hose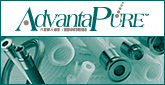 Our AdvantaPure division specializes in products for the biomedical, pharmaceutical, and biotechnology industries. Visit our Web site at: